TigerCrypt
TigerCrypt is a tool to encrypt / decrypt files. It has a GUI, but it also works in the command line (java -jar tigercrypt.jar -?).
Thanks to the strong support of the Spanish community, TigerCrypt is now available in Spanish. See Languages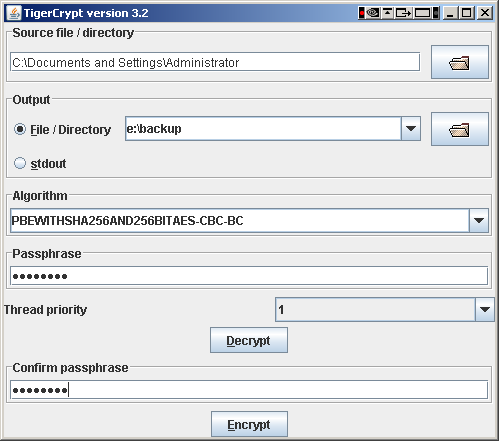 You can increase security a lot by downloading the Java Cryptography Extension (JCE) Unlimited Strength Jurisdiction Policy Files (1.5 or 1.6, corresponding to your Java version). Without this extension passwords cannot have more than 7 characters!
Security features
Uses random salt, written as the first 8 bytes to every encrypted file. (new in 3.x)
Uses Bouncycastle provider, which supports the most secure digests and algorithms. By default, SHA-256 is used to generate the key from the password, and 256 bit AES is used for the encryption. (new in 3.x)
Password-erasure in RAM. (new in 3.x)
The encrypted data is indistinguishable from random data. The file format is this: 8 bytes for the (random) salt, then the raw encrypted data as specified in the corresponding algorithm specification.
The password used for decryption cannot be verified. Whatever file is used for decryption, and whatever password is used, TigerCrypt always produces an output file. This makes a brute force attack almost impossible, even more when encrypted files are nested.
Open file format, open encryption standard and open source. This makes it possible for any proficient person to verify that no intentional or unintentional security holes or backdoors exist.
Supported algorithms
256 bit AES (recommended for common purposes)
192 bit AES
128 bit AES
Twofish (also recommended for common purposes)
DES (not recommended for common purposes)
Triple-DES (slow and not more secure than AES or Twofish)
Launch in GUI mode using Java WebStart.
Version: 3.5
Platform: Java VM (will run on all common systems)
Languages: English, German, Norwegian, Spanish (automatically selected, or use java -Duser.language=X -jar tigercrypt.jar where X is one of en, de, es or no)
License: GNU GENERAL PUBLIC LICENSE
System requirements: Java VM version 1.5 or later
Authors: Kai, Vidar (Norwegian i18n), Ricky (Spanish i18n)
Download TigerCrypt (MD5 over HTTPS)
Frequently Asked Questions
How can I directly play an encrypted video file in mplayer or VLC without decrypting it to a temporary file?
Just launch TigerCrypt from the command line and pipe its output to VLC or mplayer, respectively:

	      java -jar tigercrypt.jar | vlc -
	      java -jar tigercrypt.jar | mplayer -
          
Then use the GUI to decrypt the file as usual, with one exception: Check the radio button "stdout" as the target rather than using a file target.